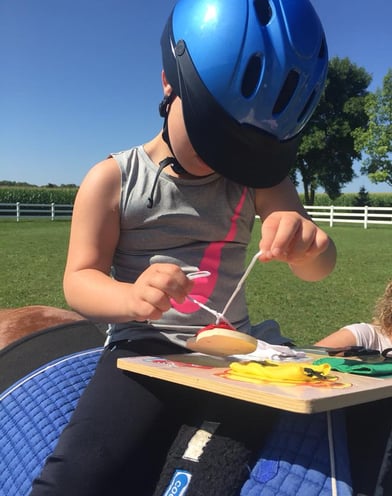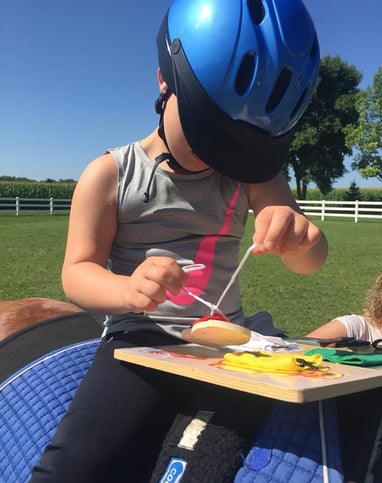 Occupational Therapy (OT) helps people across the lifespan participate in the things they want and need to do through the therapeutic use of everyday activities (occupations).

At Making Strides Therapy, we combine evidence-based intervention with the power of nature to help clients make progress towards functional goals, which may include the following areas:
Hand and Fine Motor Skills

Motor Control and Coordination

Self-Care and Daily Living Skills

Visual-Motor and Perceptual Skills

Sensory Processing and Regulation

Social Participation

Hippotherapy
Making Strides Therapy specializes in providing occupational therapy using hippotherapy as a treatment tool as part of an integrated plan of care. The term hippotherapy refers to how occupational therapy, physical therapy and speech language pathology professionals use equine movement to engage sensory, neuromotor and cognitive systems to achieve functional outcomes.

The movement of the horse provides a dynamic base of support, making it an effective tool for improving trunk strength, balance, postural control, weight bearing and motor planning. The movement of the horse also offers well-modulated sensory input to vestibular, proprioceptive, tactile and visual systems.

Height and weight limits apply for clients participating in hippotherapy, corresponding to the size of our horses.

Cost for OT services
Screening: $60
Evaluation: $220
Treatment session: $170 for 50 minutes
Making Strides Therapy is considered an out-of-network provider and does not bill insurance directly.

Registration
Registration is accepted on a rolling basis, depending on availability. Please contact Jill at makingstridesot@gmail.com for more information or complete our Contact Form.